Chaos Clinic Recap
---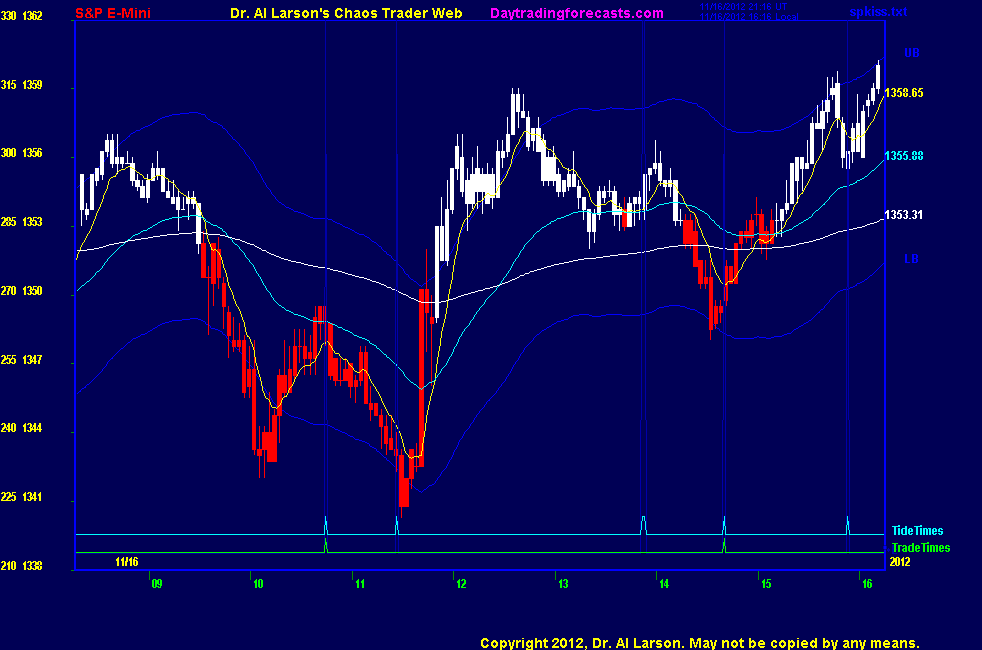 ---
Here are Al's comments
---
1:52 in light of the low volume, I'm going to leave the second trade as an exercise for the student and quit for the day
Thanks for coming. No clinic next week due to Thanksgiving. Se you in 2 Weeks. Take a course.
1:47 volume has dropped of sharply
1:32 prices seem to be attracted to the Venus +V090 electric field flux
early low bounced off the Moon -T225 and the high was off the Moon -T135 flux
this was an 18 point "band gap energy jump" - band gap jumps are what make transistors work
1:28 I think the juice is gone for the day, as the hedge fund guys turn off their computers and head to the Hamptons
1:08 sagging back to the mean
12:58 Earlier regular TG, who is very good, placed a Fractal Grid chart in the Certified Chaos Trader's Room, which warned of this bounce. The Certified Chaos Trader's Room room is open
to graduates of my 4 main courses. See http://moneytide.com -> Courses for details.
My eMylar overlays help you be patient, since they show you future potential moves.
The best bargain in my courses is to take the Cash In On Chaos and Fractal of Pi courses and
learn to use the FOP overlay. Then I suggest the Chaos Trading Made Easy course, followed by the Face of God course.
12:50 down 5 3 point quantums, up 6; 5:6 ratio comes from the musical scale
12:44 if don't break it, may sag back toward trading range midpoint of about 1350
12:41 if break yesterday's high, may get a good rally from a trading range breakout
12:39 testing yesterday's high
12:25 the first two Tide times were very good. Still two hours to next trade time. Hopefully the later times will be good also.
12:16 One thing I look at is consistency of trend. Wednesday we had a nice trend; yesterday the trend was not consistent
today it is not consistent. So making profits is harder.
12:09 17+ points is 30 minutes is an extreme rate of movement - hedge fund computers drive such moves
so the elephants are dancing, and us ants have to be careful not to get stepped on
12:04 I call these "shards of glass" days -easy to get cut
12:02 although we made a new low, we are still in a congestion over the last few days
12:00 there is the rally I was wary of
11:16 I obviously should have held that trade-but I will not chase it. Taking a breakfast break now
11:30 new lows
11:24 had I not aborted my trade, I would be taking about 2.5 points here near next tide time
11:16 next tide time is 11:27-it could be a higher low
11:04 aborting for -1 -don't like it not moving
11:02 stop to 1448.5, just above the 110
11:00 OK, taking continuation sell at 1346 stop 1349
10:56 there is a tendancy that if a low holds up for 30 minutes of so, for a a continuation of the move
10:55 still watching
10:33 when the 55 minute EXMA turns, a fast move is usually over -it looks to be turning up now
10:29 trade setup is not clear to me, so waiting
15 point initial move is a good range for a full day and Friday early head fakes are common
10:22 yesterday one had to be nimble - today looks just as bad
10:18 bounce has prices back inside yesterday's range
10:06 hopefully will get a bounce into trade time
10:04 both now broken
10:00 low hled so far-overnight low is 1 point lower, so both held so far
9:55 testing that low
9:47 declining-yesterday's late low 1345.50
9:38 today looks like a congestion day - overnight made a double bottom, rallied, did not break
yesterday's high. Midpoint of congestion is about 1351
9:36 today's trade times are 10:45 and 14:40
9:34 opening inside yesterday's range
9:00 Good Morning. Welcome to the Chaos Clinic. This site has a lot of charts,
so you may find it useful to have several of them available within your
browser. If you have a tabbed browser, you can open separate charts
in separate tabs by right clicking on any link, and selecting "open in new tab"
from the menu. The main list of site pages is at
http://daytradingforecasts.com/chartlistsec.asp
Recommended pages to watch are SPKISS, MTRainbow, and Chat.
For astro stuff, add SPSunMoonMer, Wheel, and Chaos Clinic.
Chaos clinic comments appear at the bottom of the SPKISS, MTRainbow,
and ChaosClinic pages. Comments in the chat room are announced by a
"duck call" noise. This noise also occurs when the sofware detects a
resonant hex pattern on the Wheel page. Trading tutorials
are on the right side of the ListOfCharts page. One should
read Trading the MoonTide Tutorial and Keep it Simple as a minimum.


---
Besides the comments made by Al, the chat room is has live
comments from other traders who sometimes share their views,
trades and tips. Below are the chat room comments from this clinic
---


11/16/2012 12:01:42 PM MT Tg****:: Have a good weekend Al. Glad your pooch is feeling better. Thanks for the tools.
11/16/2012 11:53:04 AM MT Tg****:: Cannot spell at 3AM Singapore time, should have said "They're out to lunch".
11/16/2012 11:51:31 AM MT Tg****:: Al, summer's gone, no Hamptons this weekend. There just out for a long lunch before a night out on the town.
11/16/2012 10:05:56 AM MT Tg****:: BBB, I think when there is good volatility all of Al's tools work better so maybe any of the tide times could turn out to be the key one for the day. The low came almost exactly 45 minutes after the first tide time. So it looked to me like low, 45 minutes before first tide time, nice SB throwover new low 45 minutes after.
11/16/2012 9:53:51 AM MT BBB****:: Al, I know your software does not allow for trade times near 11:30 Eastern, but I have been noticing a LOT of these working out lately - just FYI. Had great success trading them.
11/16/2012 9:49:59 AM MT Tg****:: I think the Santa rally is underway. Bought 46.5.
11/16/2012 9:43:33 AM MT Tg****:: Should have said near the end, now apparently past the end. Al, honestly you have to come up with tools that are a little more precise, for goodness sakes ;-)
11/16/2012 8:19:45 AM MT Tg****:: I think we may be at the end of a 3 day down fractal. will post it in CCT room.
11/16/2012 8:13:14 AM MT BBB****:: Wow what a move.
11/16/2012 7:42:09 AM MT Al****:: GM all-goodluck today
11/16/2012 7:00:23 AM MT mm****:: gm all - have a great day
11/16/2012 6:53:14 AM MT jack2:: GM and Good Luck!

9:00 Eastern-System: No comments

---