Chaos Clinic Recap
---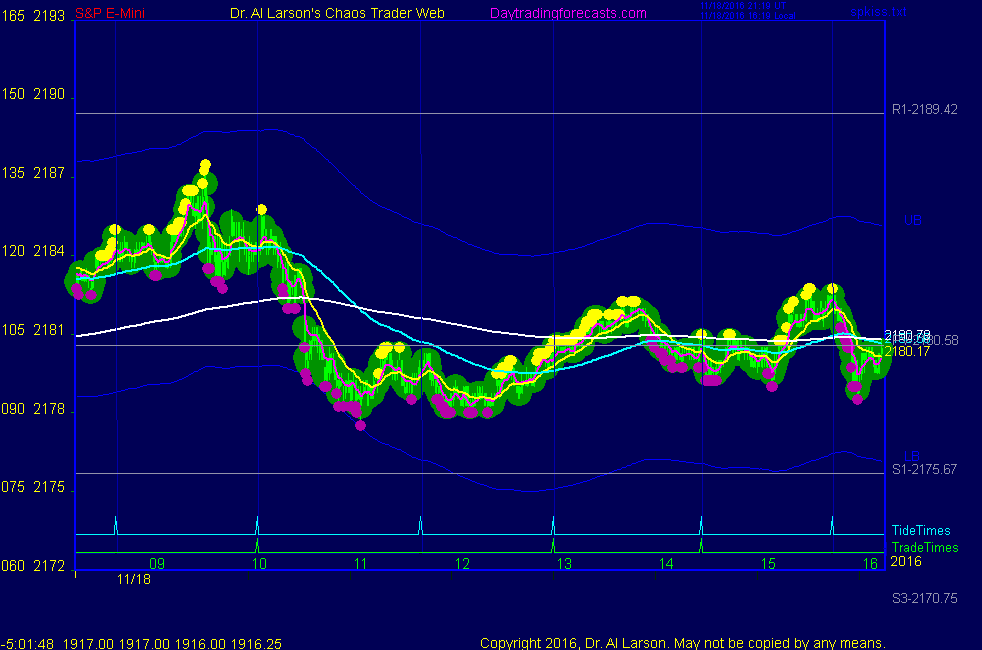 ---
Here are Al's comments
---
3:08 stopped out; done for the day; thanks for coming; see you in 2 weeks;
3:03 just want to see if this works-often get a short covering rally late on a day like today
2:56 I bought because my PFE indicator gave a buy on a higher low
2:44 OK, I jumped: bought 2180.75 stop 2179
2:41 stuck on Venus+180 price on Wheel of 72; coming to Venus 000 timeline
2:38 not going down
2:30 still unclear-probably will not trade this one due to low volatility
2:27 possible low on this Tide time
2:15 the third chart on the SPKISS page shows the Pivot Prices. These are widely used by computers. The central
one, called the pivot, is a balance level. We are there now.
2:12 even though I didn't make anything on the second trade, it was important for me to come back and do one right
2:06 this is one of those mixed tide days-very hard to trade
2:04 not doing anything now until next trade time 2:27
2:03 out for 0; at least I executed that one properly
1:57 may get stopped -if not will hold
1:50 stop to 2180.5, break even; 220 and 110 EXMAs have reached this point
1:40 looking OK; today is a "two Moon Day" with Moon timelines early and late; can go one way, or Moon-Noon-Moon
today looks like Moon-Noon-Moon; see the SPSunMoonMer chart
1:26 after mucking up the first trade, I had to clear my head. One thing I do is re-read a note from the book
Deep Survival. "Be Here Now. You just have to get on with it and do the next right thing." Best book for traders.
1:25 stop to 2179.75, under 110 ; risk .5
1:19 that FOG pattern helped me act on this trade; stop to 2179
1:17 I have placed a Face of God chart in the Certified Chaos Trader's Room. That room is open
to graduates of my 4 main courses. See http://moneytide.com -> Courses for details.
eMylar Fractal of Pi overlays help you be patient, since they show you future potential moves.
The best bargain in my courses is to take the Cash In On Chaos and Fractal of Pi courses and
learn to use the FOP overlay. Then take Chaos Trading Made Easy, and finish with Face Of God.
1:08 not a lot of juice
1:00 stop to 2178, risk 2
12:55 stop to 2177.50-risk 2.75
12:52 bought 2185.25 stop 2177 for now
12:50 20 minute EXMA approaching 110-possible buy setup
12:42 coming to a timeline cluster of Node, Mercury, Neptune, which are forming a Tsquare
12:35 on the SPKISS chart, looking at the yellow and magenta "Pushballs" I see 1-2-3-4-5-6 swings in the decline,
so a 7th swing would complete 7 moves in a down Chaos Clamshell.
12:26 the 110,220, and 440 minute EXMAs are down, so there is no buy setup
I only want to be short if the move makes new lows
12:21 coming into the second trade time-put a sell stop at 2177, 1 point below candle wicks
Tides could go either way
12:04 if you have your sound on, you hear a "duck call" announcing that software has found a resonant Hex pattern.
see the tutorial on Hex patterns, and Hex Wheels today, linked on the right side of the ListOfCharts page
12:00 passed solar noon-probing for a low
11:45 the selloff did not take out the early 24 hour low, so the range may be set
11:33 one of the hardest things about trading is that you have to manage yourself. You are both coach and player.
Taking yourself out of the game is necessary at times. If you find yourself thrashing like I did this morning,
you need to bench yourself.
11:20 I'm back - normal session range now 10 points-SPKISS chart was clearer than my NT chart

11:04 taking a breakfast break
11:02 we got an inversion from green to red Tide at that turn
10:52 sharp decline-the good news is that my stop did get me out and prevented further losses when
when I started running the Samsung Washer algo
10:27 stopped-done until next trade time; need to go find my head
10:15 taking another break; stop is in
10:09 rebought 2185.5 atop 2182.5 -need to sit still now
10:02 just no juice here-I'm trying too hard and it's not working; taking a break
10:00 aborted for -1.5 on both
9:57 placed two sell limits at 87.25 and 90.25
9:55 filled on limit order; long 2 average 2185, stop 2182.25
9:51 rebought 2185.5 ; and have a buy limit at 2184.25, sell stop 2182.25
9:46 early Friday trades are tricky-that one looked like a blast off but it died quickly
9:44 now I'll watch a bit
9:37 stopped out-resistance at 87.5 attracted selling
9:33 stop to 2183.25
9:31 OK after the normal session open
9:22 bought 2185.5 stop 2182.5
9:20 looking bullish; trade may come early
9:08 the early rally followed the green +Tide, which shows a low at the trade time
8:49 today I'll be showing a Ninja Trader chart on the AUX page;
It shows a 219 minute rally . followed by a pullback, which may run into the first trade time;
I am also showing two indicators created by me; the QPFE is from my Chaos Trading Made Easy Course.
the PFE is from my Stocks and Commodities article "Polarized Fractal Efficiency" . It may be under my pen name,
Hans Hannula. You can buy the article from Stocks and Commodities magazine.
8:46 today's trade times are 10:06, 13:00, and 14:27
8:45 Good Morning. Welcome to the Chaos Clinic. This site has a lot of charts,
so you may find it useful to have several of them available within your
browser. If you have a tabbed browser, you can open separate charts
in separate tabs by right clicking on any link, and selecting "open in new tab"
from the menu. The main list of site pages is at
http://daytradingforecasts.com/chartlistsec.asp
Recommended pages to watch are SPKISS, MTRainbow, and Chat.
For astro stuff, add SPSunMoonMer, Wheel, and Chaos Clinic.
Chaos clinic comments appear at the bottom of the SPKISS, MTRainbow,
and ChaosClinic pages. Comments in the chat room are announced by a
"duck call" noise. This noise also occurs when the sofware detects a
resonant hex pattern on the Wheel page. Trading tutorials
are on the right side of the ListOfCharts page. One should
read Trading the MoonTide Tutorial and Keep it Simple as a minimum.

---
Besides the comments made by Al, the chat room is has live
comments from other traders who sometimes share their views,
trades and tips. Below are the chat room comments from this clinic
---


11/18/2016 1:10:57 PM MT TG****:: Have a good Holiday Al.
11/18/2016 7:52:51 AM MT mm****:: gm all - have a great day !
11/18/2016 7:09:09 AM MT jgc:: good morning from central Florida!

9:00 Eastern-System: No comments

---