Chaos Clinic Recap
---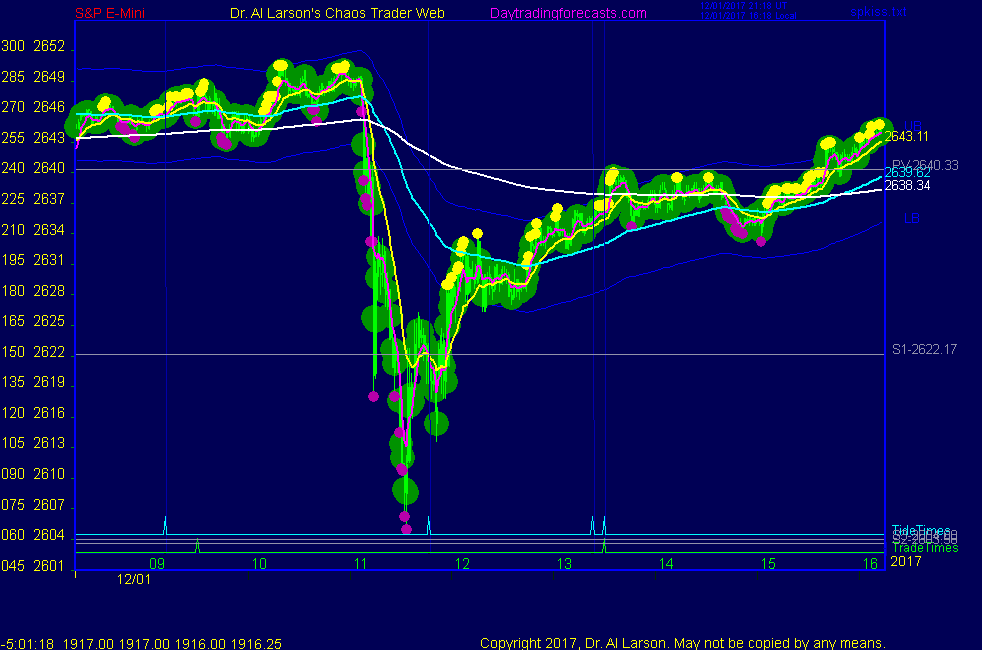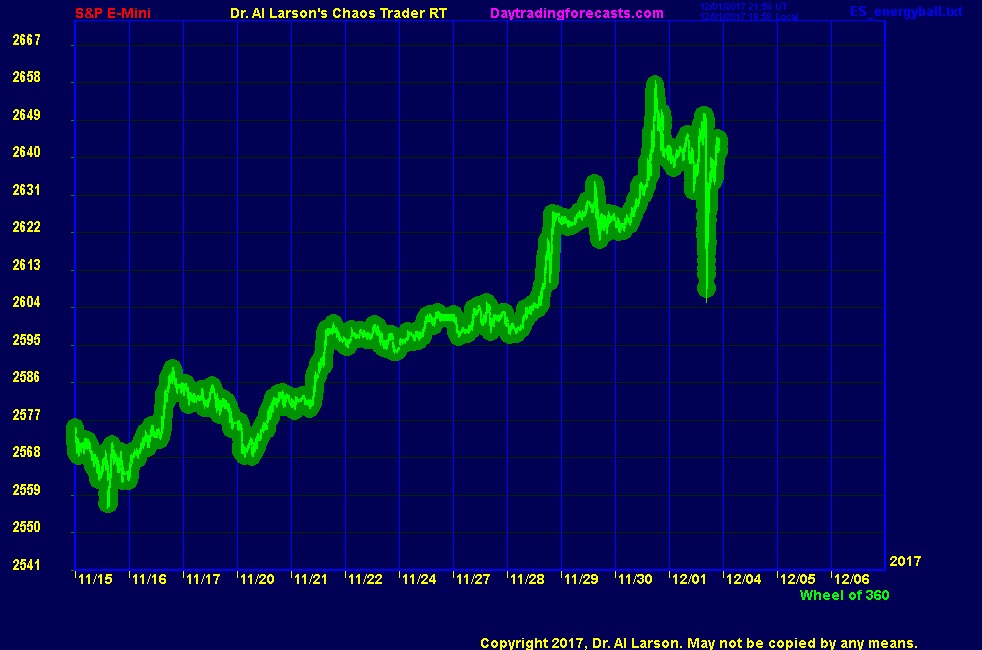 ---
Here are Al's comments
---
12:10 I'm done for the day; Thanks for coming; See you next week. Take a course or two. Learn to Cash In On Chaos.
12:07 there may be more downside to come, but I'm taking my money and banking it; I Cashed In On Chaos.
It does not matter that I did not get all possible; one just has to get some consistently :)
12:05 out for +12
11:55 50% retrace is 2628; stop is 3 points above it
11:49 I've added the pivot prices to my AUX chart; these are used by a lot of computer algos
Yesterday's high was R1, broke pivot, could go all the way to S4
11:48 what fascinates me is that the news event came right on the vertical line in my charts
11:43 I've locked 12, so I'll hold
11:39 this is where it gets had; hold or take the money and run?
11:32 if you have taken the Cash In On Chaos and the Fractal of Pi courses, put a Fractal of Pi
overlay on the AUX page chart
11:30 this move could retrace ALL of the rally shown on the AUX page chart
11:28 stop to 2631; lock 12
11:25 stop to 2635 - will let this one run
11:21 My chart on the AUX page had me prepared for what could be a major trend change
11:19 I worry about doing a Chaos Clinic when there is no chaos; got it today
11:16 stop to 2640
11:12 look on Secret->esNat72; that vertical line and the speed is what made me sell
11:08 sold 2643
11:07 getting some selling after double top at 2650.5
11:01 normal session range just 7.5 points - not a barn burner
10:40 the CME announced Bitcoin Futures available December 18. Should I add a Bitcoin forecast?
Answer in the chatroom
10:20 getting some buying, but not chasing it. I made my attempt. Key resistance 2652
10:16 Also, check out the esNat360 chart in ListOfCharts-Secret. Note how it nailed yesterday's top.
10:13 while the S&P dazzles us with dullness, check out the Euro Charts linked on the left side of ListOfCharts
Note the second chart which shows key price levels; The first chart shows
a Moon move from T090 to T180
10:05 just had a hex pattern recognized by software; see hex wheels today and hex tutorial,
linked on right side of ListOfCharts page
10:03 back-see prices are stagnant
9:45 taking a short break-don't think this thing is going anywhere
9:44 aborted -2
9:38 stop to 2644.5 cover sell limit 2650.5
9:34 resistance is at 2651.5
9:32 may not be much here, but bought 2647.5 stop 2644
9:22 On the AUX page I am showing a chart since the 15th of November; Yesterday stands out
like a sore thumb. It has a wide 36 point range and a curved pattern. These are typical of a
blowoff move 7 in a fractal. Today will most likely trade inside yesterday, and not take out the
high. The overnight trading has gone down up 8, down 14, up 19 for a very inefficient start. So today
may not be a good day trading day.
9:19 trade times today are 09:31 and 13:30
9:00 Good Morning. Welcome to the Chaos Clinic. This site has a lot of charts,
so you may find it useful to have several of them available within your
browser. If you have a tabbed browser, you can open separate charts
in separate tabs by right clicking on any link, and selecting "open in new tab"
from the menu. The main list of site pages is at
http://daytradingforecasts.com/chartlistsec.asp
Recommended pages to watch are SPKISS, MTRainbow, and Chat.
For astro stuff, add SPSunMoonMer, Wheel, and Chaos Clinic.
Chaos clinic comments appear at the bottom of the SPKISS, MTRainbow,
and ChaosClinic pages. Comments in the chat room are announced by a
"duck call" noise. This noise also occurs when the sofware detects a
resonant hex pattern on the Wheel page. Trading tutorials
are on the right side of the ListOfCharts page. One should
read Trading the MoonTide Tutorial and Keep it Simple as a minimum.

---
Besides the comments made by Al, the chat room is has live
comments from other traders who sometimes share their views,
trades and tips. Below are the chat room comments from this clinic
---


12/1/2017 9:52:03 AM MT Al****:: Do would be good ?? I don't know what this means
12/1/2017 9:43:32 AM MT Pyc:: Please definitely add bitcoin to your analysis. Do would be good as well if possible
12/1/2017 6:57:50 AM MT TG****:: Good Morning Everyone. Good Luck today.

9:00 Eastern-System: No comments

---