Chaos Clinic Recap
---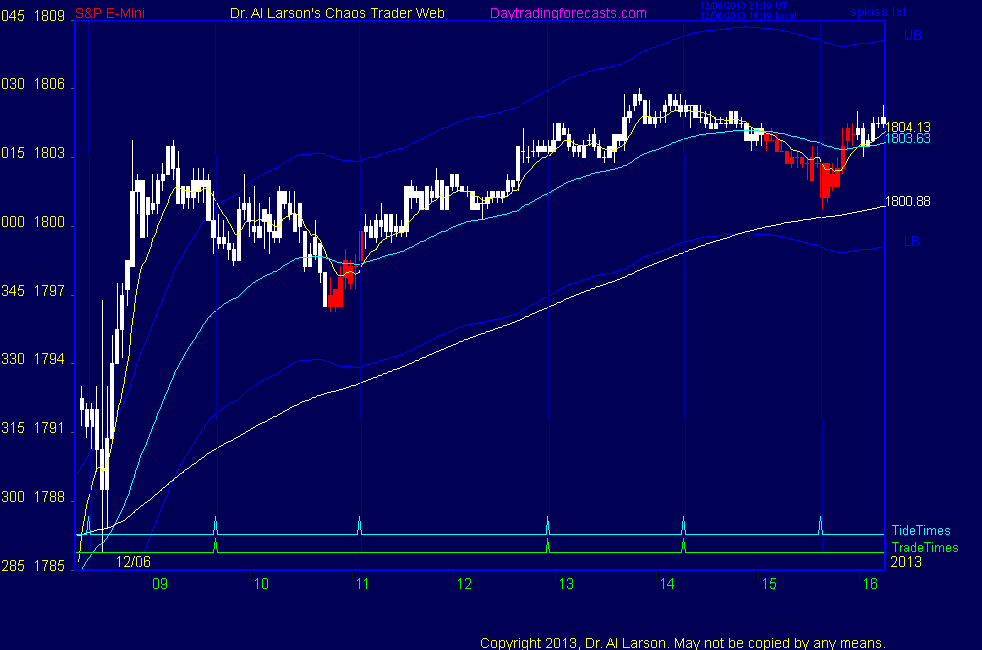 ---
Here are Al's comments
---
12:15 OK, I'm calling it quits. Thanks for coming. See you next week. Check out the Chaos Trading Made Easy special at http://moneytide.com
12:12 the juice has gone out of the market-covering for +1.75
11:57 stop to 1799
11:33 looking good
11:20 this thing may take a while; I plan to hold to the next trade time, cover, and quit for the day
11:04 bought 99 stop 96
10:56 my trade selection software dis not pick the 11:06 Tide time as a trade time, but I may use it as one
10:51 declining as per the green +Tide
10:26 prices are trapped between the Moon +T045 and -T045 electric field flux lines-a congestion zone
10:16 on the SPKISS chart, the 110 EXMA is now up to about 1798 -may get a continuation buy setup
9:55 As I show on the AUX page, it looks like we are following the +Tide MoonTide. It suggests a low near 11:00
9:42 a fascinating thing about the hedge fund computerized trading of the employment report is that it produced a
perfectly harmonic move of 18 points, 1/4th of the wheel of 72. You can see the clearly on the AUX page, where
I am showing one of my research charts.
9:30 today's big rally (driven by hedge fund computers) on the employment report makes day trading problematic. In particular,
the first trade time of 9:40 Eastern is too soon for the EXMA's to settle down. The other trade times
are 12:56 and 14:16. I will watch for a while.
9:28 Good Morning. Welcome to the Chaos Clinic. This site has a lot of charts,
so you may find it useful to have several of them available within your
browser. If you have a tabbed browser, you can open separate charts
in separate tabs by right clicking on any link, and selecting "open in new tab"
from the menu. The main list of site pages is at
http://daytradingforecasts.com/chartlistsec.asp
Recommended pages to watch are SPKISS, MTRainbow, and Chat.
For astro stuff, add SPSunMoonMer, Wheel, and Chaos Clinic.
Chaos clinic comments appear at the bottom of the SPKISS, MTRainbow,
and ChaosClinic pages. Comments in the chat room are announced by a
"duck call" noise. This noise also occurs when the sofware detects a
resonant hex pattern on the Wheel page. Trading tutorials
are on the right side of the ListOfCharts page. One should
read Trading the MoonTide Tutorial and Keep it Simple as a minimum.

---
Besides the comments made by Al, the chat room is has live
comments from other traders who sometimes share their views,
trades and tips. Below are the chat room comments from this clinic
---


12/6/2013 1:03:36 PM MT BBB****:: ddd- Al is probably gone for the day. Do you have a general question? Maybe I could help.
12/6/2013 12:56:10 PM MT ddd:: ok
12/6/2013 12:16:59 PM MT BBB****:: Tg is one of the regulars --- just seeing how he was doing today
12/6/2013 12:11:46 PM MT ddd:: TG? what do you meand BBB?
12/6/2013 11:52:10 AM MT BBB****:: Tg - how goes it today?
12/6/2013 11:30:29 AM MT ddd:: Hello Al, when is a good time to talk to you over the phone?
12/6/2013 9:43:30 AM MT srj****:: same thing, can't see the wheel either
12/6/2013 8:22:42 AM MT ddd:: same issue with chrome
12/6/2013 8:16:15 AM MT srj****:: For some reason the wheel of 72 is not showing for me (reload doesn't get it) I did have a quick time error message but have downloaded and installed the latest version of Quick time and restarted firefox but still no go...
12/6/2013 7:34:14 AM MT ddd:: Good morning
12/6/2013 6:43:22 AM MT srj****:: (sorry had caps lock on)
12/6/2013 6:42:46 AM MT srj****:: GM ALL
12/6/2013 6:42:12 AM MT mm****:: gm all - have a great day

9:00 Eastern-System: No comments

---