Chaos Clinic Recap
---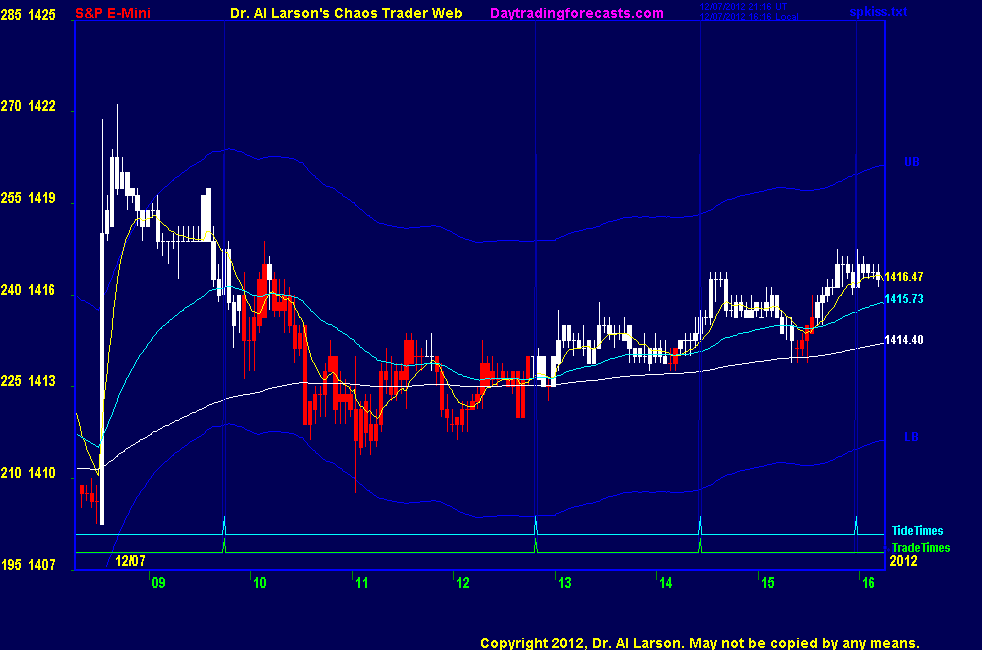 ---
Here are Al's comments
---
1:20 OK, I'm going to call it a day - just too dull; thanks for coming; see you next week. Take a course.
1:06 still dull
12:35 I'm back - almost second trade time of 12:49, but pretty flat
11:48 looks like the volatility has left ; taking a breakfast break
11:34 aborting for -1 ; not moving
11:20 still hanging around the now flat 440 EXMA
10:54 Moon +T000 flux at 1404 may be support
10:48 110 is about 1415, stop is above it
10:41 I like to watch the daily candle stick live - my new NinjaTrader is nice for that
Jobs report made it a nice green up candle, which has now faded into a doji
10:35 sold 1412 stop 1415 -inverted to red -Tide
10:31 stopped out.
10:30 the 440 EXMA is rising, coming up through that level
10:28 that is why my stop is at 1413
10:24 I use 3 minute candle sticks. I do not worry about all ths candlestick patterns-I just watch the wicks.
Dr. Al's 3 Wick pattern helps identify suport/resistance. Note 3 botttom wicks on the pullback low.
10:07 elected, stop at 1413, cover 1420
10:06 placing buy stop 1416.5
10:04 trade time was 9:45 so still in window-other times are 12:49 and 14:26
10:00 OK, tracking green +Tide, so looking for a low-may get a "hook and go" buy on the 20/110
9:55 I'm behind the market action right now due to technocrap problems
9:39 got my data feed back - my DSL modem had to be rebooted.
9:30 I just lost my data feed. Can't do anything until I get it back.
9:14 the hedge fund computers really fired off, got in, then got out - hard to compeat, but using Ninja Trader I got a bit of it
9:08 good jobs report popped prices up to the Moon +T090 electric field flux line
9:00 Good Morning. Welcome to the Chaos Clinic. This site has a lot of charts,
so you may find it useful to have several of them available within your
browser. If you have a tabbed browser, you can open separate charts
in separate tabs by right clicking on any link, and selecting "open in new tab"
from the menu. The main list of site pages is at
http://daytradingforecasts.com/chartlistsec.asp
Recommended pages to watch are SPKISS, MTRainbow, and Chat.
For astro stuff, add SPSunMoonMer, Wheel, and Chaos Clinic.
Chaos clinic comments appear at the bottom of the SPKISS, MTRainbow,
and ChaosClinic pages. Comments in the chat room are announced by a
"duck call" noise. This noise also occurs when the sofware detects a
resonant hex pattern on the Wheel page. Trading tutorials
are on the right side of the ListOfCharts page. One should
read Trading the MoonTide Tutorial and Keep it Simple as a minimum.

---
Besides the comments made by Al, the chat room is has live
comments from other traders who sometimes share their views,
trades and tips. Below are the chat room comments from this clinic
---


12/7/2012 9:17:34 AM MT Al****:: mine did get the data
12/7/2012 7:40:30 AM MT JMV****:: Yes but NT should notice the interruption and automatically download the missing data. ToS does that, I can't see why this thing can't.
12/7/2012 7:36:37 AM MT Al****:: not NT's problem-my network - just TECHNOCRAP
12/7/2012 7:34:29 AM MT JMV****:: Welcome to NT Al! That can happen and it's a pain. Need good uninterrupted internet. When the connection re-establishes, you'll see gaps in the data, have to reload. Best thing is to exit application and restart, or go to Tools>Historical Data Manager>Download tab, and download the day again. They really need to work on that...
12/7/2012 7:30:00 AM MT Al****:: I just lost my data feed.
12/7/2012 7:12:17 AM MT BBB****:: GM and good luck today
12/7/2012 6:36:01 AM MT JMV****:: Anyone else see a ridiculous gap at exactly 8:30? I know it's the jobs report and all but.. Wow
12/7/2012 6:28:17 AM MT JMV****:: Morning all, GL!
12/7/2012 5:53:20 AM MT Al****:: GM all. Good luck today. CCT's check the CCTRoom.
12/7/2012 5:50:08 AM MT mm****:: gm all - have a great day

9:00 Eastern-System: No comments

---