Chaos Clinic Recap
---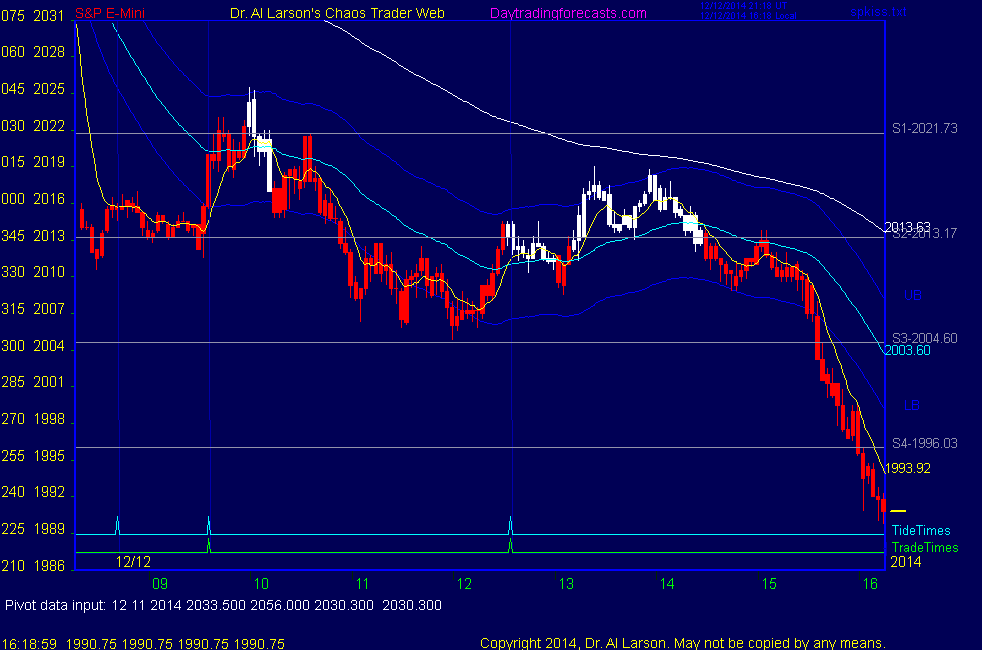 ---
Here are Al's comments
---
2:17 I'm done; was hoping for more juice but it didn't come; see you next week; take a course or two
2:16 stopped out at 2014 for +2.75
2:09 notice how prices are now staying above the 110 minute EXMA; this is good
2:06 a second round of buying should come in after 2:30
2:04 low came on solar noon; usually means rally to close; trick will be to stay in and watch to cover in last hour
2:02 the 110 minute EXMA is now up to my stop, which is good
1:57 stop to 2014; lock 2.75
1:51 looking good-got in during move 2, have survived move 4; stop is in a good place; have locked 1.25
1:44 I have placed a second Fractal of Pi chart in the CCT Room
1:39 this price was resistance on move 1, now support
1:33 in move 4 of 7 going up-trick here is to stay in
1:23 stop to 2012.5, now trailing by 5.5
1:20 stop to 2011; break even
1:16 could retest 2025; 2022 is S1 and pivot is near 2038
1:10 now looking good; stop to 2007
1:02 need to be patient-in move 2 from the low
12:49 looking good so far - need a 36 cross 220 on AUX page to feel comfortable
12:41 updated my chart in the CCT Room
12:39 just bought at 2011.25 stop 2005 for now
12:35 have a 20/110 crossing; putting buy limit at 2011
12:32 110 has curled up
12:30 pretty good up thrust; waiting for a pullback
12:26 down move shows 7 little moves, 20 to 30 minutes long; so watch for a 1-2 of same size going up
12:23 last hour shows "three drives to a bottom" pattern
12:22 the rainbow of EXMAs is still down; watching the 20 and 55 to see if they turn up
12:16 on the AUX chart I have shifted the -Tide down; shows S3 2004 area is probable support
12:12 pattern developing as expected
11:20 I have placed a Fractal of Pi overlayed on that chart in the Certified Chaos Trader's Room. That room is open
to graduates of my 4 main courses. See http://moneytide.com -> Courses for details.
eMylar Fractal of Pi overlays help you be patient, since they show you future potential moves.
The best bargain in my courses is to take the Cash In On Chaos and Fractal of Pi courses and
learn to use the FOP overlay. Then take Chaos Trading Made Easy, and finish with Face Of God.
11:13 now I've added the 24 hour pivot lines; the main reason for doing this is that these prices are used by a lot of computer programs
11:07 on the AUX page I'm showing a modified KISS chart that helps during volatile weeks-the EMA lengths are doubled
10:22 taking a break; be back for second trade
10:19 now we just wait for the next trade time near 12:34; emotionally I want to try another whack at this trade, but that is not the plan
10:17 12+ point rally and 9+ point decline makes low risk trading hard
10:14 stopped -3; now in a congestion
10:07 rebought 2020 stop 2017
10:04 stopped for +.5; may have pushed stop too fast
10:01 made 5 quickly, so will try for 9 ; stop to 2020.5
9:59 stop to 2020 ; break even
9:57 stop to 2016
9:50 looking OK ; thrust and congest; another thrust coming
9:42 bought 2020 stop 2015 for now
9:39 still waiting
9:36 quick pop; waiting a bit; could b a high as per -Tide
9:31 trend is down ; there is support near 2010 ; resistance near 2017 ; now on March contract
9:28 trade times are 09:36 and 12:34
9:00 Good Morning. Welcome to the Chaos Clinic. This site has a lot of charts,
so you may find it useful to have several of them available within your
browser. If you have a tabbed browser, you can open separate charts
in separate tabs by right clicking on any link, and selecting "open in new tab"
from the menu. The main list of site pages is at
http://daytradingforecasts.com/chartlistsec.asp
Recommended pages to watch are SPKISS, MTRainbow, and Chat.
For astro stuff, add SPSunMoonMer, Wheel, and Chaos Clinic.
Chaos clinic comments appear at the bottom of the SPKISS, MTRainbow,
and ChaosClinic pages. Comments in the chat room are announced by a
"duck call" noise. This noise also occurs when the sofware detects a
resonant hex pattern on the Wheel page. Trading tutorials
are on the right side of the ListOfCharts page. One should
read Trading the MoonTide Tutorial and Keep it Simple as a minimum.

---
Besides the comments made by Al, the chat room is has live
comments from other traders who sometimes share their views,
trades and tips. Below are the chat room comments from this clinic
---


12/12/2014 2:00:25 PM MT srj****:: Thanks Al, didn't see it will send another email just so you have my current email. Thanks.
12/12/2014 11:26:02 AM MT Al****:: yes; now we have to act like we've been here before :)
12/12/2014 11:18:23 AM MT BBB****:: This is a nice trade!
12/12/2014 11:08:05 AM MT Al****:: SRJ-thought I responded, will check on it
12/12/2014 11:02:11 AM MT srj****:: GM Al, hope things are well. I sent an email to transfer my cct tools and MT reader from a laptop to a desk top - please let me knwo if you need any details Thanks,
12/12/2014 10:33:31 AM MT Al****:: on AUX chart and all the 3 minute candle charts
12/12/2014 10:27:08 AM MT DPP****:: Hi AL; Thanks for hosting this Clinic; Where do you see the 3 drives to a bottom in last hour?
12/12/2014 7:33:33 AM MT BBB****:: GM to everyone

9:00 Eastern-System: No comments

---