Chaos Clinic Recap
---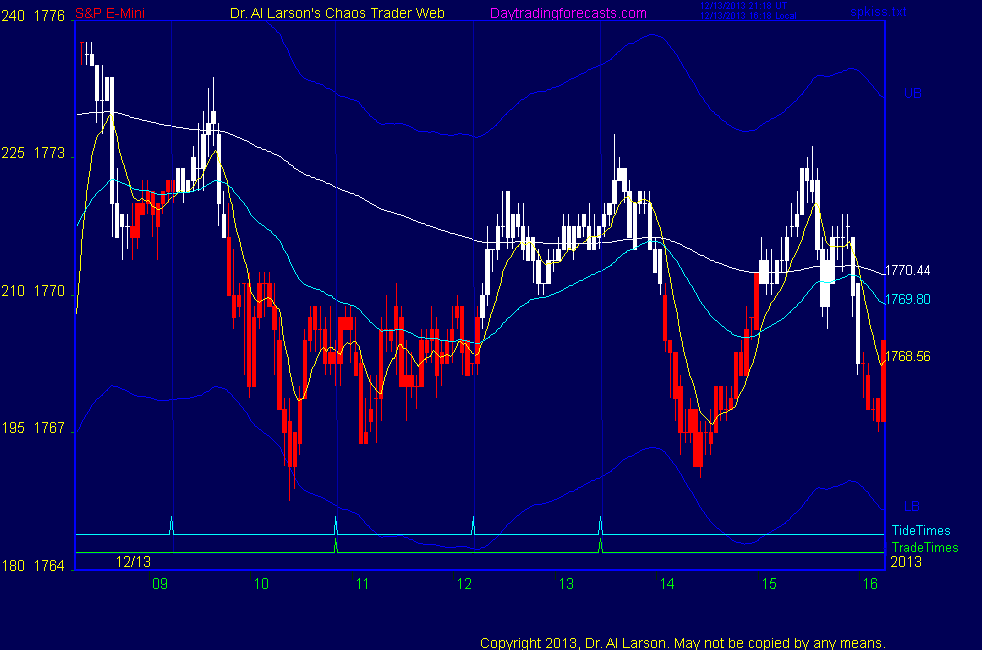 ---
Here are Al's comments
---
2:02 thanks for coming-see you in January-have a great holiday-take some courses-see the CTME special on http://moneytide.com
1:59 covering for +2 ; there may be more, but there is little juice and I'm tired
1:46 pullback to 110 -stop is in the right place; this is now a "hold to close" up pattern
1:36 looking good -stop to 70
1:30 still long passing the second trade time
1:07 interesting-the range from yesterday's high to today's low is 11 points; the time between the double bottoms is 22 hours; a 2:1 ratio
1:03 coming to the next trade time-I'll just carry this trade through; it does have a continuation buy setup
12:44 stop to 1769.5 - lock a big 2 ticks
12:29 stop to 69, just under the 110
12:22 stop to 68
12:20 OK, going now-posted a second Face of God chart in the CCT room
12:13 ZZZZZZZZZZZZZZZZZZZZZZZZZZZZZZZZZ -holding
12:00 still looking OK-may just try to hold into the close
11:44 trade looking a bit better-trying to be patient
11:37 volatility has dropped-trade still Ok but not impressive
11:18 pressing EXMA's a bit-bought 69 stop 66
11:17 higher minor low on double bottom says not to try selling
11:14 not hit, cancelling it -still bottoming
10:57 putting buy stop at 1770.5
10:52 I have placed a Face of God chart in the Certified Chaos Trader's Room. That room is open
to graduates of my 4 main courses. See http://moneytide.com -> Courses for details.
eMylar Fractal of Pi overlays help you be patient, since they show you future potential moves.
The best bargain in my courses is to take the Cash In On Chaos and Fractal of Pi courses and
learn to use the FOP overlay. Then take Chaos Trading Made Easy, and finish with Face Of God.
10:42 we have the 110 down, with the 20 up, below the down 440 coming to the trade time. To get a buy we would
need the 110 to curl up, and the 20 to cross above it; the double bottm suggest not looking for a sell
10:39 double bottom with yesterday may attract some buying
10:27 I could regret not holding my short longer, but I won't; regrets do no good. Take them as lessons for next time.
10:20 testing yesterday's low; if it holds, we will have a 2 day double bottom
10:05 we have yet to come to the first trade time, and I've already made two trades. Lost my discipline.
I think I want to start vacation :)
10:03 looks like a trading range day
10:00 OK, took 67.75 for +1.25 -late entry, take a bit
9:57 will cover 67.5
9:55 sold 69 stop 71
9:50 the 110 minute EXMA has turned flat, indicating a congestion
9:47 aborted for -3 ; that was ugly
9:45 I probably should have waited
9:36 moves often go from one Tide time to another. Here it looked like a move from the 9:14 time to the 10:51 time, so I looked to take it "going into" the trade time
9:32 elected long, putting stop at 1770 for now
9:31 in case things happen early, putting a buy stop at 1774, just above the 440
9:29 on a 2 day version of the SPKIS chart we have a 20/110 buy setup, but the 440 minute EXMA is holding prices down
9:24 on the AUX page I am showing a research chart. It shows a 9 point range on the 24 hour chart, and that we are currently following the red -Tide
9:18 today's trades are at 10:51 and 13:27 ; the question is "Will we get any volatility?"
9:00 Good Morning. Welcome to the Chaos Clinic. This site has a lot of charts,
so you may find it useful to have several of them available within your
browser. If you have a tabbed browser, you can open separate charts
in separate tabs by right clicking on any link, and selecting "open in new tab"
from the menu. The main list of site pages is at
http://daytradingforecasts.com/chartlistsec.asp
Recommended pages to watch are SPKISS, MTRainbow, and Chat.
For astro stuff, add SPSunMoonMer, Wheel, and Chaos Clinic.
Chaos clinic comments appear at the bottom of the SPKISS, MTRainbow,
and ChaosClinic pages. Comments in the chat room are announced by a
"duck call" noise. This noise also occurs when the sofware detects a
resonant hex pattern on the Wheel page. Trading tutorials
are on the right side of the ListOfCharts page. One should
read Trading the MoonTide Tutorial and Keep it Simple as a minimum.


---
Besides the comments made by Al, the chat room is has live
comments from other traders who sometimes share their views,
trades and tips. Below are the chat room comments from this clinic
---


12/13/2013 12:08:59 PM MT BBB****:: Have a great Holiday Al. Happy New Years.
12/13/2013 7:23:16 AM MT srj****:: Al - a question for you in CCT chat room, thanks
12/13/2013 7:06:38 AM MT Al****:: GM all-good luck toay
12/13/2013 6:23:33 AM MT srj****:: gm Al, mm
12/13/2013 4:59:49 AM MT mm****:: gm all - have a great day

9:00 Eastern-System: No comments

---