---
CHAOS CLINIC RECAP
---
---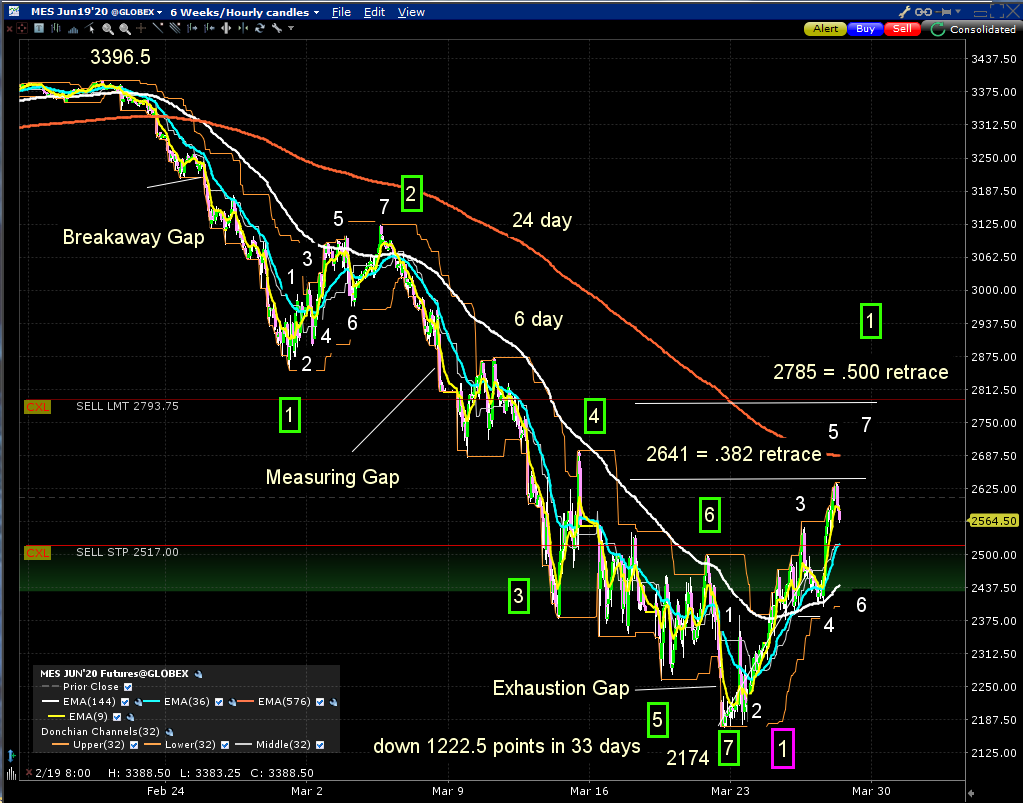 ********************************************************************************
A Rescue Rally
Chaos Clinic for 3/27/2020
********************************************************************************

This chart shows the micro eMini since the COVID-19 virus struck. After 33
crushing days, the S&P has staged a rally this week.

That rally is a rally of hope, ans the federal government works to pass a 2 trillion
dollar rescue package.

This is a 24 hour hourly chart. A rainbow of EXMAs help identify the moves. The
144 hour is a 6 day EXMA. This EXMA tends to be a moving support/resitance line.
From the high, down to hte green outline 1, prices stayed below the 36 hour (1.5 day)
EXMA, until rallying up to the green boxed 2. At that point the 36 hour and 144 hour
EXMA gave a "continuation sell" signal. In a Chaos Clamshell, the start of move 3
is normally a good place to trade, because the trend is establihed and there are
five moves to come.

From there, the decline was fqast, persistant, and awesome. The Fed cut raqtes to zero,
and started quantitative easing. The market went lock limit several times. The normal
reaction was "The sky is falling. Even trying to count the moves intelligently was hard.

However, a long standing tool of technical analysts did help : gaps. The only real gaps
these days are weekend gaps. In gap theory, there is a breakaway gap, a measuring gap,
and an exhaustion gap. These are marked on the chart.

The exhaustion gap came last weekend. From there the S&P has rallied, even getting above the
6 day EXMA. The decline from the February 19th top to the March 23rd low was 1222.5 points
in 33 days. Typical re-tracements of .382 and .5 give 2641 and 2785 as retrace targets.
A 24 day EXMA is currently between those two.

The decline looks to be move 1 of seven in a down Chaos Clamshell. A time projection
of 7 x 33 = 231 days gives October 7, 2020 for a larger Chaos Clamshell. October is the
the most common month for crashes.

I do not think that will be the end of this. Before COVID-19 hit, analysts were worked about
a global economic slowdown. We are in a shutdown.

Chaos Clamshells are taught in my Cash in On Chaos course.
A free online mini course called Trading The Chaos Clamshell
can be found at http://moneytide.com/hans/institute.asp<\a>

For more on my work, see Moneytide.com
---

Below is one of the SPKISS charts from daytradingforecasts.com
and the chat room comments from this Chaos Clinic. Most recent comment is on top.
---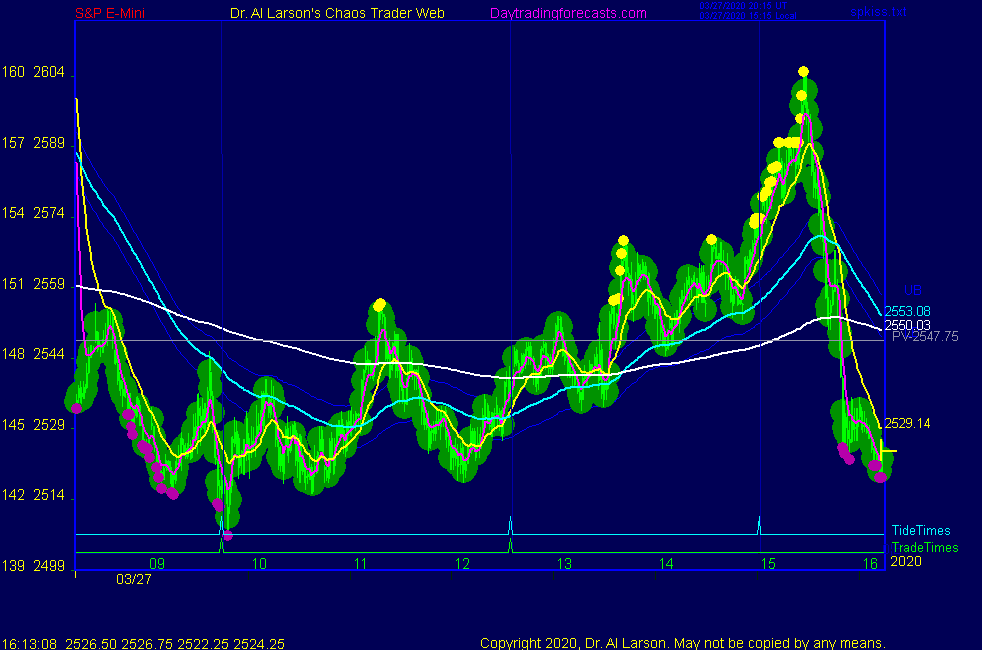 3/27/2020 2:00:26 PM MT jbs****:: Thanks for everyone's help today. Have a great weekend!
3/27/2020 1:47:42 PM MT jbs****:: BBB, I see the trade on the Chaos Clinic chart. I must be using the wrong EMAs (6 and 37 EMAs on 3 minutes chart). Al uses "XEMA" and I am using "EMA" in Ninjatrader 8. Maybe I am using the wrong indicator. What software do you use?
3/27/2020 1:18:26 PM MT BBB****:: It shows perfectly to me - and if you look on the chaos clinic page you can see it as well - the first trade time brought a spike low, and then we made a higher low around 10:30 on the Chaos clinic page chart, followed by another higher low, then the EMAs crossed up waht looks to be 1 or 2 bars before the second time, where Al bought the 2527.25 area. YOur short was not wrong, but when it failed to make a lower low and double bottomed and could not make it through to lower prices. so you were not incorrect in shorting, as it was right on the edge of the window, but the market had other ideas.
3/27/2020 1:17:00 PM MT jbs****:: Thanks! I'll get notated and ready to post shortly.
3/27/2020 1:11:16 PM MT BBB****:: jbs can you post your chart in the CTT room? and what time zone are you in?
3/27/2020 1:03:19 PM MT jbs****:: BBB, thanks. Can you kindly explain Al's 2527.50 buy after EMA crossing. I do not show that there was an EMA crossing. I am just trying to understand. Al's comment on buy is posted at 11:00:44 Thanks for your help. Let me know what you determine.
3/27/2020 12:54:46 PM MT BBB****:: NOOOOO! Asking questions is what this is all about - no one minds it - but Al left long ago it looks like. I do know that this last time has a high probablity of being a big mover based on the tides going vertical
3/27/2020 12:51:03 PM MT jbs****:: BBB, thanks for much for your comments. I first started with this website in the late 1990's. I could not wait until I retired to be able to follow more closely. I agree Al is a fantastic person and a brilliant researcher and analyst. I must admit that I got very frustrated by my recent losses amidst big gains by others. I am sorry if I have unfairly expressed frustration. I just didn't understand and still do not understand the trades taken today. The price of entry doesn't seem correct to me. I am so sorry if it is unfair for me to say that. Going forward I will try to remember that this is a chat room, not a room for trade advise or education throughout the day. I realize that Al can make typos and that I also can fail to understand what is posted at times. Going forward I will not get frustrated if my questions go unanswered. I will try not to ask questions. I realize that is not the purpose of the chat room.
3/27/2020 12:49:41 PM MT Nel****:: x everyone have a good weekend
3/27/2020 12:46:27 PM MT BBB****:: the EMA question - on a 3 minute chart, the correct settings are an EMA with 7 and one at 37. Then for the 440, which is crucial - setting that at 147
3/27/2020 12:36:56 PM MT BBB****:: ska, jbs, Al is an incredible person. I have been here for over a decade. His knowledge is incredible and the times are amazing, as I am sure you see. I would not worry about the CT yet unless you are going to dedicate time to it. A lot of time. Al never made any promises of showing trades or answering questions - but he does anyways when he can. He is incredibly kind and for the price, the information provided here is some of the best on the internet. I did notice the first time today had a spike low that went outside the bollinger bands - i find that to by a change in trend when that happens, especially in the fast markets we have been having.
3/27/2020 12:32:48 PM MT Nel****:: still long -just using the EXMAs and the CTME tool Al used to say to expect buying to come in at 12:20
3/27/2020 12:29:30 PM MT jbs****:: RR, how is your trading day going?
3/27/2020 12:23:37 PM MT jbs****:: ska, the other chat room has some activity today which is unusual.
3/27/2020 12:21:47 PM MT ska:: tHNX JBS
3/27/2020 12:21:43 PM MT jbs****:: ska, I am in Al's other chat room.
3/27/2020 12:16:56 PM MT jbs****:: ska, I would suggest waiting on the CCT work and expenditure until you are able to trade with the basic rules using the 'trade times'. Follow Al's guidance. Go back over his trades each day to understand them completely. That will help in learning his methods. My problem is that I am not understanding his trade today. Perhaps I am missing something or he made a typo or it was actually a losing trade. I tried asking for clarification, but I don't believe Al saw my comments. I will check to see if my posts are included in the Friday Chaos clinic archive. That should tell me a lot.
3/27/2020 12:10:23 PM MT jbs****:: ska, thanks for your frankness. I look forward to Al's answers. Al has done a lot a great research and seems to be a wonderful person. My only goal to to be successful trading and to help others along the way. We will see what next week brings. Best of luck with your trading and stay healthy.
3/27/2020 12:09:15 PM MT ska:: Will it help If I become a CT ???
3/27/2020 12:08:27 PM MT ska:: One question jbs R u a ct in Al`s other room ??
3/27/2020 12:06:36 PM MT jbs****:: ska, congratulations on you trades today. Great job!
3/27/2020 12:04:36 PM MT ska:: jbs AL has a long track record Al has figured out How to make money consistently .Is AL helping others here ,including u ,???? I have starting to doubt it .. I have No answers . Only AL can clear the air ..
3/27/2020 12:02:01 PM MT jbs****:: Nel, thanks for confirming the EMAs. Can you help me understand Al last trade? He bought at 2527.25 on the 20/110 buy crossing (6/37 on 3 min chart). He aborted for +8. I must not understand, but I do not see the EMA cross that would have offered a buy entry at 2527.25. He confirmed that he entered at 27, however. Thanks in advance for your help. I am just trying to learn.
3/27/2020 11:55:53 AM MT Nel****:: JBS, your EXMAs are correct
3/27/2020 11:49:07 AM MT jbs****:: I will check Al's trade rules, again. Perhaps I have my 3 minute chart setup incorrectly. If I determine that it is setup correctly per the trade rules, then I will have no choice but to discontinue subscription to daytrading forecast.com (when it expires). Note that I may be removed anyway due to this post. Hopefully I will have my questions answered. If I must leave the chat room, let me say that I have enjoyed chatting with everyone hear. I sincerely wish the best of luck to everyone!!
3/27/2020 11:41:17 AM MT jbs****:: Does anybody know the answers to my questions? I don't think Al saw my questions before he logged off.
3/27/2020 11:34:19 AM MT Nel****:: l
3/27/2020 11:27:31 AM MT Al****:: I'm done for the day-long week. Thanks for coming. Take some courses. See you next week
3/27/2020 11:25:47 AM MT Al****:: 27
3/27/2020 11:24:10 AM MT jbs****:: Al, I may have my 3 minute MES chart setup wrong. I have 20 and 110 EMAs set at 6 & 37 since I'm looking at a 3 min chart). Is this correct?
3/27/2020 11:21:10 AM MT jbs****:: Al, thanks. Your long entry was at 2527.25? Sorry for all the questions, just trying to learn.
3/27/2020 11:17:30 AM MT Al****:: stop was last low
3/27/2020 11:17:06 AM MT Al****:: aborted for +8
3/27/2020 11:16:09 AM MT jbs****:: Al, what are you using for your stop loss level, since the 440 EMA is above price? (147 EMA on 3 min chart)
3/27/2020 11:13:46 AM MT jbs****:: Al, I see the 20/110 cross (6/37 on 3 min chart). Was your Long at 2527.25 or 2537.25 I just want to be sure I have my chart setup correct.
3/27/2020 11:09:43 AM MT jbs****:: Al, thanks. I'll add 'trade with the two day trend' to my trading plan.
3/27/2020 11:00:44 AM MT Al****:: there was a 20/110 buy crossing at trade time-I bought 2527.25 in the MES eMicro
3/27/2020 10:54:45 AM MT Al****:: two day pattern is thrust, correction. expect another thrust up
3/27/2020 10:49:50 AM MT jbs****:: I think my expectation should have been that Flash Boys would run price back up to the pivot. That is apparently what they have done. Guess I should have considered location of the pivot when I place my stop above the 440 EMA (147 EMA on the 3 min chart).
3/27/2020 10:47:55 AM MT Al****:: I have placed a Face of God chart in the Certified Chaos Trader's Room. That room is open
to graduates of my 4 main courses. See http://moneytide.com -> Courses for details.
eMylar Fractal of Pi overlays help you be patient, since they show you future potential moves.
The best bargain in my courses is to take the Cash In On Chaos and Fractal of Pi courses and
learn to use the FOP overlay. Then take Chaos Trading Made Easy, and finish with Face Of God.
3/27/2020 10:47:06 AM MT jbs****:: Correction, my stop was just above the 440 not the 220 EMA.
3/27/2020 10:46:00 AM MT jbs****:: Shorted at 2526.25 at 12:15. Based trade on EMA down direction and pullback to enter on the 3 minute chart. All EMAs were down at the time of entry. I placed my stop loss just above the 220 EMA. Unfortunately, price just hit my stop. -15.5 points. (even the EMAs on the my live rainbow chart were down at time of short entry) That's the last trade time for the day and I am not going to chase price trying to regain my lost points. Now that I'm stopped out, I would expect price to go back down, lol. So I am done for the day. Good luck to all. I will continue to monitor chat.
3/27/2020 10:16:04 AM MT srj****:: Thanks AL, should have remembered the FOP stuff.
3/27/2020 10:07:02 AM MT ska:: sh 3650 stop 40 -14 ticks jbs
3/27/2020 10:02:43 AM MT jbs****:: Al, what is your indication for the 12:20 CTME potential buying? Cover in the CCT chat?
3/27/2020 9:55:46 AM MT jbs****:: We are within the 12:35 trade window now. Watching for EMAs to curl down and short term EMAs to cross on 3 min chart. I will short on pullback at that point. FYI, for those new to the chat room, I am a novice trader so please do not mirror my trades. I post as a way to be accountable to myself for my trading. Having a trading plan based on probable outcome and then only trading your plan is the key to success imo. And success is my goal. But it is hard to do.
3/27/2020 9:55:05 AM MT Al****:: watch for buying to come in at 12:20 (CTME)
3/27/2020 9:45:31 AM MT jbs****:: ska, was that a +40 or -40 stop on you 6th trade?
3/27/2020 9:44:39 AM MT jbs****:: Looks like the Flash Boys bounce price off the pivot.
3/27/2020 9:38:56 AM MT srj****:: 20 EXMA rolling over?
3/27/2020 9:35:24 AM MT ska:: stopped 40
3/27/2020 9:35:02 AM MT jbs****:: ska, way to go.
3/27/2020 9:29:49 AM MT ska:: sh 6 th trade now at 3650
3/27/2020 9:26:17 AM MT ska:: I took first trade @844 +40 ticks Secomnd trade short 2450 .Stopped out +20 ticks Third trade short 941 +40 ticks
3/27/2020 9:22:34 AM MT Al****:: back from taking the dogs to the park
3/27/2020 8:50:38 AM MT jbs****:: No entry for first trade time. Waiting for next trade window which opens in about 1 hour.
3/27/2020 8:46:04 AM MT Al****:: covered my swing longs on open- no juice
Flash Boys sold pivot
3/27/2020 7:50:21 AM MT jvj****:: Hello everyone
3/27/2020 7:05:10 AM MT jbs****:: Good morning
3/27/2020 7:02:31 AM MT Al****:: GM all-good luck today
Chaos Clinic posted on AUX page
3/27/2020 7:01:49 AM MT srj****:: GM AL, all
9:00 Eastern-System: No comments

---