---
CHAOS CLINIC RECAP
---
---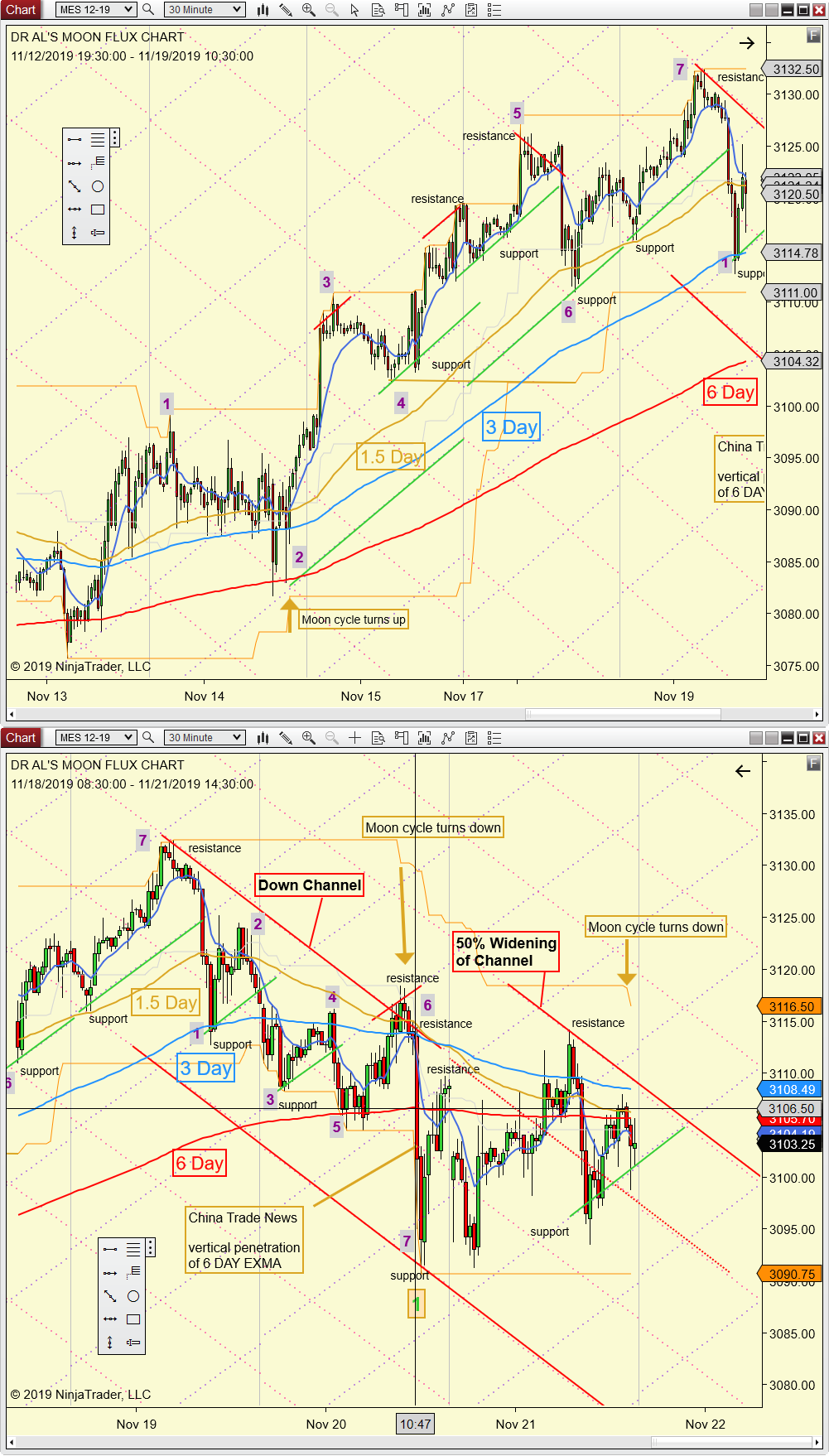 ********************************************************************************
     Moon Flux, The S&P, and Ninja Trader
     Chaos Clinic for 11/22/2019
     written 19:00 Eastern, 11/21/2019
********************************************************************************

This week I have been testing new flux line software for NinjaTrader 8,
written by my son Mark and now available for purchase at EnergyFieldTrading.com.
I've been testibng it with live trading using the new Micro ES (MES) S&P futures
contract. These two charts show what I was looking at.

The charts use 24 hour, 30 minute candle sticks, and my familiar 1.5 day, 3 day, and 6 day
exponential moving averages, as well as a 4.5 hour EXMA. The "wallpaper" behind
the chart is a diagonal set of Moon electric field flux lines. During this testing,
I happend upon a "magic" setting that seemed to work well, and made sense theoretically.

In theory, one should see price react to the fluxlines, with each line being support
or resistance. These points will happen within a larger pattern, such as my Chaos Clamshell.

The top chart shows an up Chaos Clamshell of 7 moves. Several flux line support and
resitance points are noted on the chart. I did get a few points buying the move 6
low, and covering on the normal session close. The next day, the normal session opened
way up near point 7. I did get about 9 point on a sell, gettingt stopped out on the sharp bounce
off the Moon flux support at point 1. With more experience with this chart, I should have
covered near point 1, since it was also support from the 3 day EXMA.

The second chart shows the remainder of the week, The flux line support off of point 1 was broken
late in the normal session on the 19th. Overnight, prices painted a move 3, 4, and 5. As the normal
session opened, I was fascinated by both the down flux line and up flux line acting as resistance.
I was aware that a 27.5 hour 24th harmonic of the Moon was turning down.
I did sell, and saw prices ease lower. Then came the sharp drop fueled by China trade talk rumors.
In real time I noted the wicks near point 7, and recognized that a down channel was forming,
marked by the red lines. Caught up in the excitement, I did not cover then, getting stopped
out on the bounce. but for a profit.

Since then, the market chopped higher into today's normal session. I was again interested when
prices approached the down flux labeled
50% channel widening, just before the normal session open.
I sold the start of the first red bar. This time I took a quick 9+ point profit.
As soon as I did, prioes dropped another 9, then found "soft support" on the up flux line.

I spent the rest of the looking at possible longer term short trade. The reason for that was the
behavior of the 1.5, 3, and 6 day EXMAs. I have found that the 6 Day is apparently used by
"reversion to the mean" trading programs. I also noted that the China Trade News drop penetrated
the 6 day EXMA vertically. I was once told by a Masters student, who managed other people's
money using onlyh EXMAs. that a vertical penetration would turn an EXMA down. So I used
the cross hairs on NinjaTrader to check. That check did confirm the 6 Day EXMA has turned down,
at least for now. If and only if it continues down the S&P may be making an important top.

So what lies ahead on? That depends. Most channels widen by 100%. A 50% widening is a sign of weakness.
But that could change with another trade rumor. What I do know, is that whatever happens,
the Moon flux will show me support and resistance points to trade.

Chaos Clamshells are taught in my Cash in On Chaos course.
A free online mini course called Trading The Chaos Clamshell
can be found at http://moneytide.com/hans/institute.asp

For more on my work, see Moneytide.com
---

Below is one of the SPKISS charts from daytradingforecasts.com
and the chat room comments from this Chaos Clinic. Most recent comment is on top.
---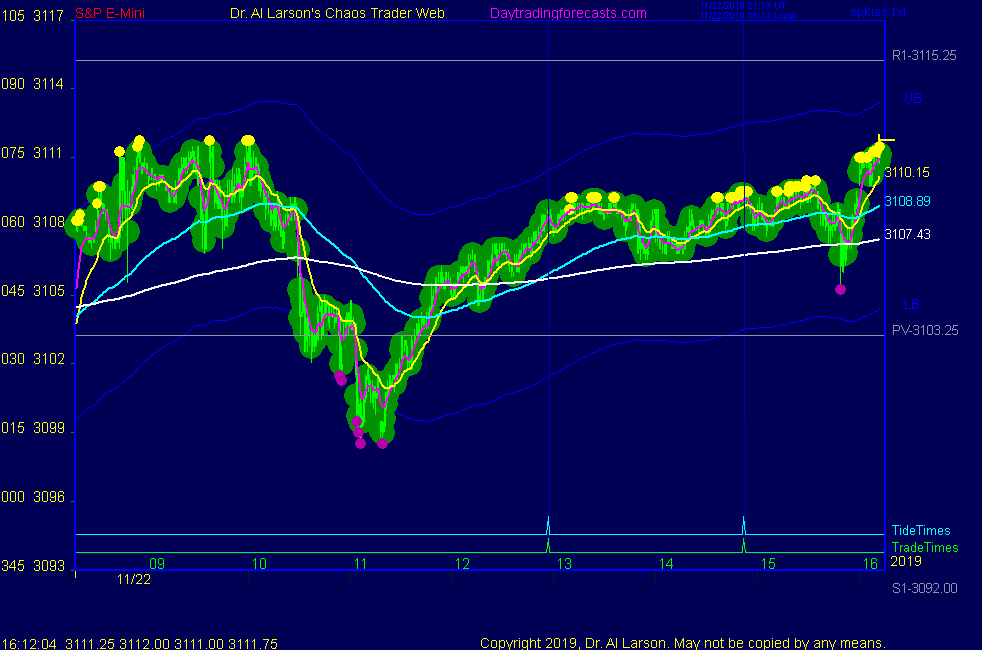 11/22/2019 1:19:28 PM MT bbb****:: can you post the SH chart in CCT or AuX page?
11/22/2019 12:13:54 PM MT Al****:: thanks BBB-got my snow done and came back to see how this thing finishes - my 8 Hour SH chart is showing a nice Butterfly
Monday could be volatile with the starburst on Secret->Daniel
11/22/2019 11:38:47 AM MT bbb****:: Fell asleep. have a great week and Thanksgiving Al, and everyone else.
11/22/2019 11:34:20 AM MT Al****:: I have to leave now to shovel snow so my wife can go to the store - thanks for coming -no clinic next week -Have a Happy Thanksgiving
11/22/2019 11:16:22 AM MT Al****:: on the fourth chart on the SPKISS page there are magenta and yellow "pushballs" - these show the efforts to push higher or lower-when the push stops, prices tend to go the other way
11/22/2019 10:42:58 AM MT Al****:: on the Chaos Clinic chart the first trade time is looking like a pass-trade has been both sides of the 110 EXMA, and there is little juice
11/22/2019 9:07:27 AM MT Al****:: this week BBB, one of my CCTs, posted a chart on the 24/7 CCTRoom showing that the top this week could be the end of a Fractal of Pi up from last year's Sant alow
11/22/2019 9:04:50 AM MT Al****:: breaking below the 6 day EXMA is significant Longer term. Note the action on the SH EFT
11/22/2019 8:56:38 AM MT Al****:: on the Secret->esNat72 and Daniel charts, you can see the high was on a vertical yellow line
11/22/2019 8:55:30 AM MT Al****:: on the Chaos Clinic page you can see that prices are following a Red Swan line
11/22/2019 8:38:19 AM MT Al****:: trade had trouble pushing past the 100% widening of the channel on my NinjaTrader chart
11/22/2019 8:32:01 AM MT Al****:: that selling broke below the 6 day EXMA
11/22/2019 8:17:12 AM MT Al****:: CCTs: check the CCTRoom for a Teamviewer link
11/22/2019 8:07:34 AM MT Al****:: I'm doing fine finally, BBB. Thanks for asking. And how are you?
11/22/2019 8:05:25 AM MT bbb****:: GM Al, hope all is well
11/22/2019 8:04:02 AM MT Al****:: I have placed an update to my NinjaTrader chart in the Certified Chaos Trader's Room. That room is open
to graduates of my 4 main courses. See http://moneytide.com -> Courses for details.
eMylar Fractal of Pi overlays help you be patient, since they show you future potential moves.
The best bargain in my courses is to take the Cash In On Chaos and Fractal of Pi courses and
learn to use the FOP overlay. Then take Chaos Trading Made Easy, and finish with Face Of God.
11/22/2019 8:00:43 AM MT Al****:: trade pushing higher, but not with much juice
11/22/2019 7:54:58 AM MT Al****::
9:00 Good Morning. Welcome to the Chaos Clinic. The written Chaos Clinic is posted on the AUX page.
This site has a lot of charts,
so you may find it useful to have several of them available within your
browser. If you have a tabbed browser, you can open separate charts
in separate tabs by right clicking on any link, and selecting "open in new tab"
from the menu. The main list of site pages is at
http://daytradingforecasts.com/chartlistsec.asp
Recommended pages to watch are SPKISS, MTRainbow, and Chat.
For astro stuff, add SPSunMoon, Wheel, and Chaos Clinic.
Chaos clinic comments appear at the bottom of the SPKISS, MTRainbow,
and ChaosClinic pages. Comments in the chat room are announced by a
"duck call" noise. This noise also occurs when the sofware detects a
resonant hex pattern on the Wheel page. Trading tutorials
are on the right side of the ListOfCharts page. One should
read Trading the MoonTide Tutorial and Keep it Simple as a minimum.


11/22/2019 7:53:11 AM MT Al****:: same here - Looking forward to 50s this weekend
11/22/2019 7:51:08 AM MT jvj****:: Just light snow from last night. Less than 2", but starting to snow again, so will probably get more this am.
11/22/2019 7:43:12 AM MT Al****:: GM jvj. How much snow you getting?
11/22/2019 7:35:45 AM MT jvj****:: Good morning to all!
11/22/2019 7:31:20 AM MT Al****:: overnight trading has lows on the 6 day EXMA so market looks bullish for the morning - no MoonTide trade until afternoon
could be a crapolla day
11/22/2019 6:20:47 AM MT Al****:: GM all-good luck today
Chaos Clinic posted on the AUX page
9:00 Eastern-System: No comments

---