Chaos Clinic Recap
---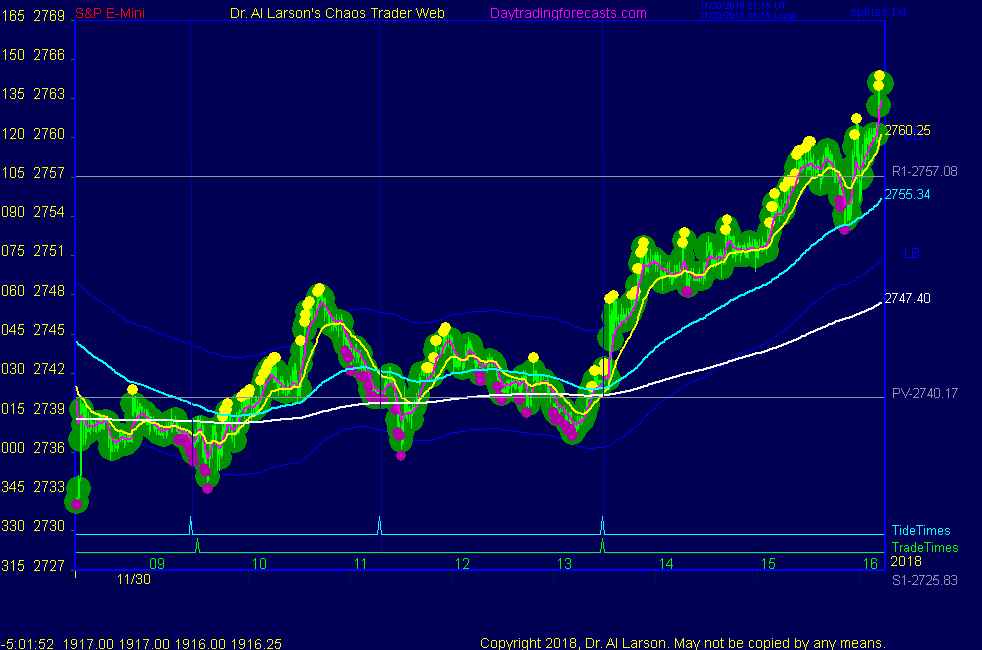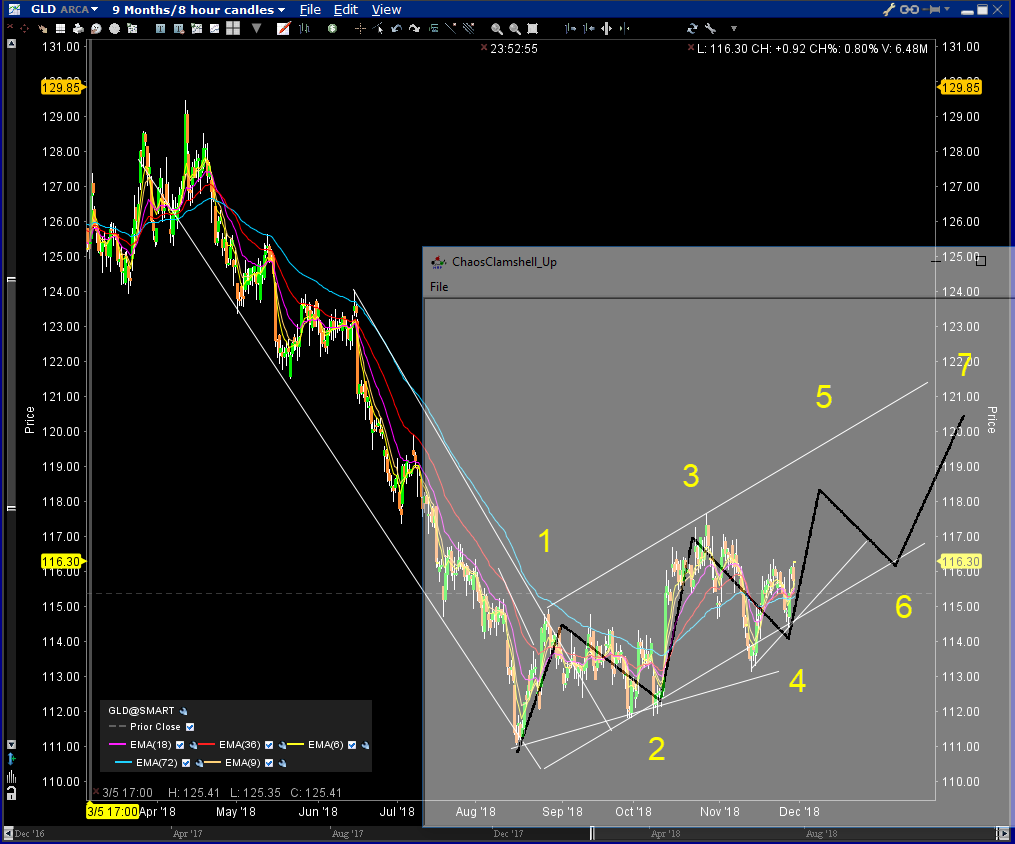 ---
Here are Al's comments
---

********************************************************************
† † † † † † Is Gold Set to Rally?
† † † † † † Chaos Clinic for 10/30/2018
********************************************************************

There is little doubt that 2018 has been a rough year for
investors and traders alike. Stock favorites like FaceBook
and Apple have turned from soaring eagles into quail shot out
of the sky. Steady trends have turned into choppy, confusing
whipsaws.

In this climate, gold is often a refuge. This chart of GLD, a popular
gold Exchange Traded Fund (ETF) shows that it has stemmed it's decline
from earlier in the year. That decline first bottomed in August.

Since then, it has made a 1-2-3-4 pattern of a possible up Chaos Clamshell.
The Chaos Clamshell is a 7 move fractal pattern discovered in my research
into chaos in markets. It is formed by the laws of how energy adds together.
In this pattern, about 60 to 70 percent have move 5 as the biggest
and fastest, making it the best move to trade. That move looks to
be starting now in gold.

The Chaos Clamshell pattern is one of my eMylar pattern tools. These are simply
translucent windows on the Windows operating system. They can be placed over any
chart produced by any program. I use this approach for all my courses, so my tools
can be used by anyone.

Note that on this chart I am using a rainbow of exponential moving averages,
of lengths 6, 9, 18, 36, and 72. With 8 hour bars, these correspond to
2, 3, 6, 12, and 24 days. Gerald Appel's MACD is one of the most popular
tools in technical analysis. It is usually formulated as an indicator
plotted below price, and it normally uses two averages. I prefer this
rainbow approach, because one can still see the converging behavior
when energy is not adding well, and the diverging behavior, when energy
is adding well, and also the trend.

Note how in the summer decline, the blue 24 day
EXMA became the top of the down channel. EXMA's have a property of
maximum speed. Once they straighten out, they cannot go faster.
They also make good stop guides.

For more on the Chaos Clamshell, see the free course on Trading The Chaos Clamshell

This material is for educational purposes. It is not trading advice.
Proceed at your own risk. All trading is risky.
Never risk more than you are willing to loose.
---
Besides the comments made by Al, the chat room has live
comments from other traders who sometimes share their views,
trades and tips. Below are the chat room comments from this clinic
---


11/30/2018 1:22:36 PM MT Al****:: everyone have a good weekend - thanks for coming
11/30/2018 1:17:13 PM MT BOG****:: Thanks.
11/30/2018 1:01:28 PM MT Al****:: when I published my newsletter I made a lot of charts with XGO forecasts on them -available at http://moneytide.com/hans/newsletters.asp
11/30/2018 12:50:16 PM MT Al****:: BOG: no, but once you get going on WinXGO you will be able to generate them
11/30/2018 12:41:14 PM MT BOG****:: Dr. Al, do you have the past 5 years charts XGo, so as to study it?
11/30/2018 12:40:11 PM MT BOG****:: Thanks Dr. AL I will. Yes Thanks for the email.
11/30/2018 12:39:29 PM MT Al****:: BBB: maybe he's just a lunatic :) BOG: sent you an email - have a good trip home
11/30/2018 12:37:32 PM MT BOG****:: No Dr. Al I did not uninstall them yet.
11/30/2018 12:15:03 PM MT bbb****:: That is not the first time a Trump Tweet has spurred the market right on a tide. He must be a subscriber.
11/30/2018 11:46:15 AM MT Al****:: LOL
11/30/2018 11:36:24 AM MT bbb****:: Well that settles it. The tides are magic.
11/30/2018 10:56:28 AM MT Al****:: BBB: that's the cold part of the state :)
11/30/2018 10:48:09 AM MT bbb****:: Yes Al I do. Heading that way in a few weeks but more lnwestern side.
11/30/2018 10:33:02 AM MT Al****:: BOG: did you get your trial version of WinXGO uninstalled?
11/30/2018 9:49:17 AM MT Al****:: good question, BOG
11/30/2018 9:49:09 AM MT BOG****:: Thanks Much.
11/30/2018 9:48:41 AM MT Al****:: my general advice about holding over the weekend is if you have a healthy profit and can protect it with a reasonable stop, maybe. The S&P is subject to a lot of geo-political events, so weekend surprises can be ugly
11/30/2018 9:37:51 AM MT Al****:: that Xtide2plus early rise is probably not real -if you look in the afternoon it says prices are about the same as they are today
11/30/2018 9:31:28 AM MT BOG****:: Dr. Al plz can you comment that Xtide2plus is expecting a sharp rise early next week, but the XGO is pointing slightly downward. If one wanted to hold over the weekend how to decide?
11/30/2018 8:07:03 AM MT Al****:: thanks GON
11/30/2018 8:06:34 AM MT Al****::BBB: Good. You still come up to Colorado?
11/30/2018 8:05:43 AM MT gon:: Hi Al, the AUX text is published here: https://www.fxstreet.com/analysis/is-gold-set-to-rally-201811301504 Thanks!
11/30/2018 7:58:16 AM MT bbb****:: I didnít even think of ordering a few charts. Ok Iíll do that. Thank you sir.
11/30/2018 7:47:05 AM MT Al****:: if you later buy WinXGO, I'll credit you whatever you spent on XGO charts. This way you can learn what it takes to plot the XGO data. WinXGO adds the capability to ZD filter the data to bring out longer cycles. This process takes some trial an error.
11/30/2018 7:43:33 AM MT Al****:: BBB-WinXGO only computes a data file with one point per day as an ASCII text file-you can then load that data into any charting program you want-so I am not in the data providing business

This can be done for Ninja Trader using the Dat aFile indicator now available at http://energyfieldtrading.com . NT7 version is available now, an the NT8 version soon. You already have the NT7 version from my site.

For more examples, there are many in my newsletters.

Or you could just order an XGO chart, which will also give you a data file you can load. There is a video on my You Tube Channel on how to do this.
11/30/2018 7:21:29 AM MT bbb****:: Here is what I wrote- I was thinking of purchasing the XGO, but wanted to know if you could send me a few random charts besides ES for me to take a look at? Also - is the data pulled from your servers? If so what happens when you decide to hang it up, is there another way to provide data for it? Maybe some of the AAPL, FB, or oils of the world that have had a big move. Or even one that is moving against the grain.
11/30/2018 7:18:25 AM MT bbb****:: Gm Al. I sent an email about the xgo system - did you get it?
11/30/2018 6:19:04 AM MT Al****:: GM all-good luck today
Chaos Clinic is posted on AUX page

9:00 Eastern-System: No comments

---