---
CHAOS CLINIC RECAP
---
---

********************************************************************************
The 2019 S&P Chaos Clamshell
Chaos Clinic for 12/20/2019
********************************************************************************

Last December, the S&P looked like it was crashing, ased on fears of a global
economic slowdown. Then the day after Christmas the Dow shot up over 1000 points.

This chart shows what has happened since. Basically, the S&P looks to be in move 7.
the final move, of an up Chaos Clamshell.

Besides the prices shown on the chart, I have included the heliocentric flux lines of Neptune
plotted at every 45 degree aspect. They are useful for following the harmonic addition
of energy as the Chaos Clamshell forms. By looking at the quantum moves where a quantum is
45 degrees, one can see how the swings relate in integer ratios.

The Chaos Clanshell began at point 0, the low on December 26, 2018. The prices was at Nh180,
which is the 180 degree aspect to the position of Neptune.

Over the next four months, the S&P rallied 540 degrees, a circle and a half, up to point 1.
From there, prices dipped 5/8th of a circle into point 2. The rally into point 3 exceed 3/4
of a circle, but did not reach 7/8.

The August drop into point 4 was large and fast. Because of it's speed, the drop seemed bigger.
It was followed by several weeks of oscillation, reflecting uncertaintly among investors. Eventually,
prices rallied up into point 5.

The drop into point 6 was 1/2 a circle. Fueled by FOMC rate cuts, a rally began in early October.
That rally looks to be a move 7 final move in a Chaos Clamshell. So how far could move 7
go? There are several possibilities.

If one takes move 1 and 2 as an AB, and assumes C=A, the final price would be 540 above point 2
would reach +Nh135, or about 3363. Another way is to assume the move 4 low was a pull back to 50%
of the Chaos Clamshell. Such a move would reach +Nh000, about 3228. From the point 6 low, that is a
full circle 360 degree move. Overall, it would be a 900 point move.

This simply warns that traders should be cautious of this year end rally. Longer term, the global
economy is slowing. As pointed out by Grace Morris in her AstroEconomics newsletter, the McWhirter
Nodal business cycle since November 2018 has been in the "above normal declining to normal stage,"
to be followed if Feb 1922 - July 2023 by a "below normal" stage.

Chaos Clamshells are taught in my Cash in On Chaos course.
A free online mini course called Trading The Chaos Clamshell
can be found at http://moneytide.com/hans/institute.asp<\a>

For more on my work, see Moneytide.com
---

Below is one of the SPKISS charts from daytradingforecasts.com
and the chat room comments from this Chaos Clinic. Most recent comment is on top.
---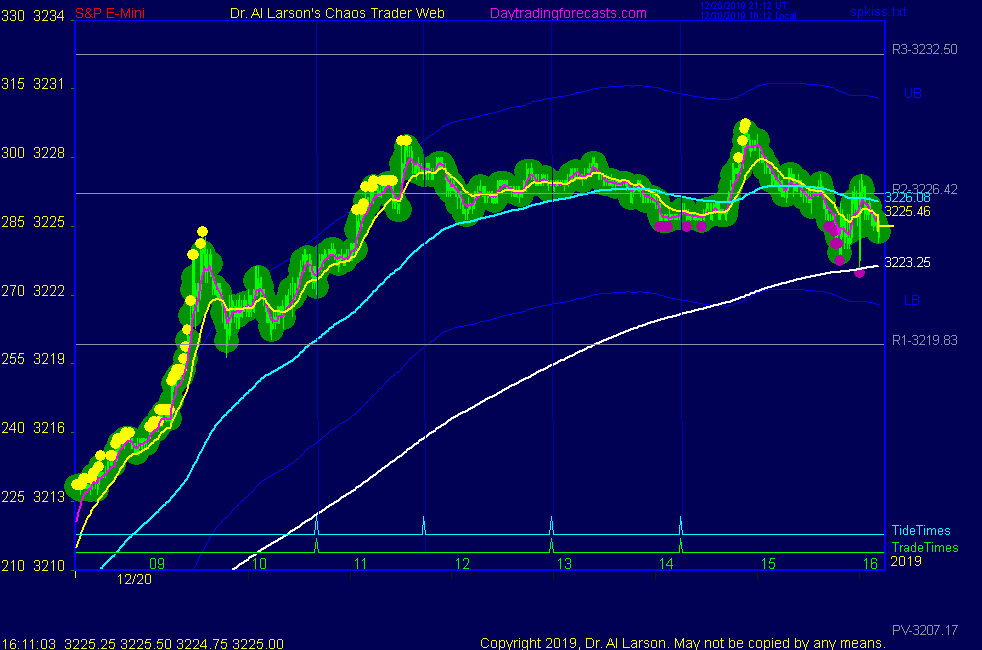 12/20/2019 12:15:54 PM MT Al****:: I'm calling it a day. Bought early near R1, tried to hold to close but stop just under white vibe on Secret->ESNat72 got me out for +6
Everyone have a good weekend and good holiday-be safe
12/20/2019 6:56:10 AM MT Al****:: Thank you kb
12/20/2019 6:53:44 AM MT kb:: Al, Happy holidays to you and your family.... thanks for all your help over the years in helping me learn some of the things that you understand and know and answering any questions I have had during that time. and have a great 2020....!! It's been a pleasure
12/20/2019 6:26:05 AM MT Al****:: GM all-good luck today and Happy Holidays
Chaos Clinic is posted on the AUX page
Welcome to the Chaos Clinic. This site has a lot of charts,
so you may find it useful to have several of them available within your
browser. If you have a tabbed browser, you can open separate charts
in separate tabs by right clicking on any link, and selecting "open in new tab"
from the menu. The main list of site pages is at
http://daytradingforecasts.com/chartlistsec.asp
Recommended pages to watch are SPKISS, MTRainbow, and Chat.
For astro stuff, add SPSunMoonMer, Wheel, and Chaos Clinic.
Chaos clinic comments appear at the bottom of the SPKISS, MTRainbow,
and ChaosClinic pages. Comments in the chat room are announced by a
"duck call" noise. This noise also occurs when the sofware detects a
resonant hex pattern on the Wheel page. Trading tutorials
are on the right side of the ListOfCharts page. One should
read Trading the MoonTide Tutorial and Keep it Simple as a minimum.

---